The number of PEOs operating in the United States is thought to be over 900, and the number of companies utilizing PEO services has continuously increased in recent years. According to the National Association of Professional Employer Organizations (NAPEO), the PEO sector provides services to over 180,000 small and medium-sized firms, which employ about 3 million employees.
These figures show that companies are prioritizing productivity and professionalism over the 'DIY,' concept. We often think the DIY idea will save us some money. Yes it might, but, the truth is we can incur more loss while trying to do it ourselves. It is imperative that we seek professional assistance.
In this article, you'll get to know what a PEO is, how many businesses that use a PEO, and how much it costs. The advantages are numerous, you'll get to know them, and also some of the drawbacks of using a PEO. Finally, some FAQs and why you should use a PEO.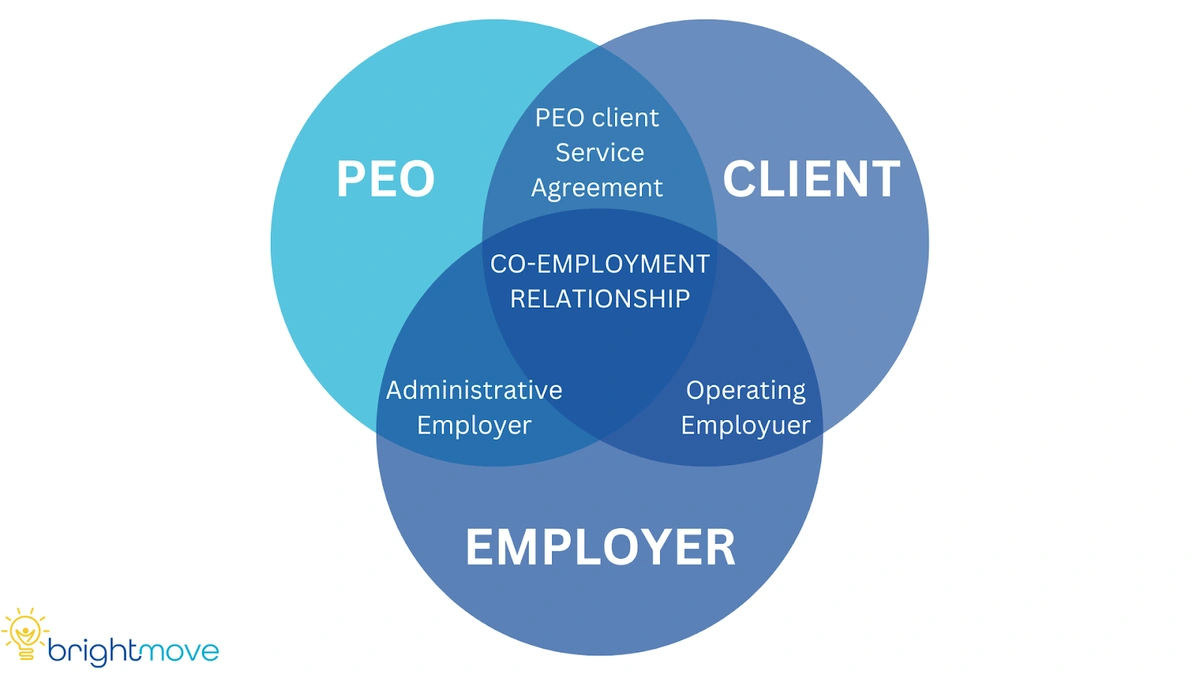 What Is A PEO?
A PEO, or professional employer organization, is a full-service co-employment human resource outsourcing model. In this arrangement, the PEO handles personnel administration functions for a company, such as payroll, benefits administration, and training. PEO also ensures adherence to all applicable federal and state employment regulations.
Some PEOs offer strategic services as well, but no two are identical, so it's crucial to investigate and contrast different providers. You may free up time by working with a PEO so that you can concentrate on enhancing your services and products and expanding your company.
How PEOs Work
Professional employer organizations (PEOs) provide businesses with a range of human resources (HR) and payroll services. They offer companies the ability to outsource certain HR responsibilities, such as employee benefits, payroll, and tax compliance, to a third-party provider.
In general, PEOs work as follows:
The PEO assumes some level of responsibility for the HR (Human Resources) functions of the client company. This may include managing employee benefits, payroll, and tax compliance.
The client company maintains control over its employees and can make decisions about hiring, firing, and setting policies. However, the PEO provides support and guidance in these areas.
How Many Businesses Use A PEO?
You may be pleasantly surprised to learn that hundreds of thousands of businesses collaborate with PEOs every day to enhance how they respond to client demands. In particular, the PEO sector aids between 150,000 and 180,000 companies annually. This leads to benefits from a PEO being received by between 2.5 to 3.5 million people.
Larger companies can also profit from co-employment agreements, although small and midsized enterprises are more likely to use them. In reality, PEOs work well in nearly every sector, including but not limited to:
Management consulting services

Health services

Legal services

Businesses services

Real estate and property management

Brokers and dealers in securities

Computer services and technology

Engineering services

Accounting, auditing, and bookkeeping

Manufacturing

Plumbing

HVAC, electrical, and other trades

Insurance

Wholesale and Nonprofits
How Much Does A PEO Cost?
PEOs (Professional Employer Organizations), typically charge a fee based on a percentage of the total payroll costs of the employees that they manage. This percentage can range from around 2% to 12% or more, depending on the size of the company, the number of employees, and the services that are included. Some PEOs charge a flat rate per employee.
It's important to do your research and shop around to find a PEO that meets your needs at a price that you can afford.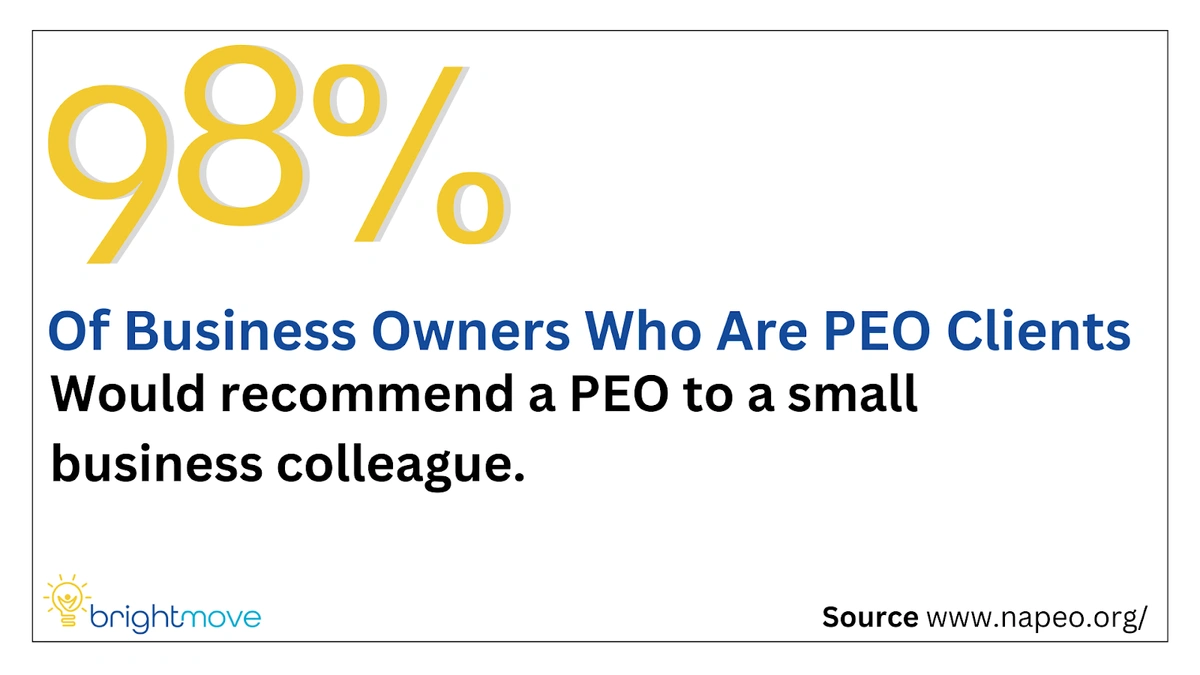 Advantages Of Using A PEO
PEOs handle several employer obligations, which does more than simply save time and solve problems. They can also save you money by guiding you away from HR-related compliance problems that could result in expensive penalties and costly mistakes like employing the wrong individual for a key position.
If you run a small business with little human resources expertise or resources, a PEO can be very advantageous. Working with a PEO will allow you to:
Save Time And Money
Your valuable time may be consumed by paperwork, benefits negotiations, and learning about labor rules. Your time could well be freed up by a PEO, allowing you to concentrate on building your clientele and your company. A PEO can help you save money in addition to time by enhancing your recruiting procedures and securing the most affordable rates from insurance companies and other benefits suppliers.
Employee Benefits
To recruit and keep great people, you will need to offer competitive salaries and benefits. One of the main objectives of the PEO relationship is to give your employees access to affordable, comprehensive benefits without the administrative and regulatory hurdles that may be so cumbersome and expensive.
Through PEO-sponsored benefit plans, the PEO, as a co-employer, can provide a wide range of benefits to your employees, including medical, dental, and vision coverage, a healthcare flexible spending account, and life and disability insurance.
Performance Management Support
Performance management is the procedure a business uses to guarantee that workers are aware of their duties and the goals they must meet to succeed. A PEO can help you with performance management support.
With this, your staff will be better positioned to carry out the tasks given to them, which will benefit your business.
HR Compliance
It's harder said than done to comply with the intricate and constantly changing federal and state employment rules. Payroll and benefits compliance might be helped by a PEO, allowing you to relax. They are professionals in appropriately classifying workers, issuing and filling out tax forms, and making sure you abide by rules about equal employment opportunity (EEO) and other legislation.
Recruiting
Nowadays, recruiting happens quickly. When a position opens up suddenly, you nearly always need to identify a suitable candidate in a hurry. The issue is that you presumably lack the time and energy to concentrate on the crucial components of effective recruiting.
Hiring the incorrect individual might end up being an expensive mistake when you take into account the time and money spent posting job advertising, interviewing candidates, doing background checks, and more.
A complete PEO should include extra services like support with recruiting and provide you access to seasoned recruiters who can assess your company's hiring requirements.
Drawbacks Of Using A PEO
PEOs have a few drawbacks, just like any other company resource. A quick look at a few:
Compliance Is Not A Guarantee
While PEOs are intended to assist you in adhering to labor rules, there is no assurance that they always will. They still have the potential to perform something incorrectly or forget to do something, which might have negative effects on your company and you personally.
Limited Flexibility
You'll have fewer options for your employees if you choose to deal with a PEO since you'll have to use their benefits providers. This is because PEOs typically have connections with a certain group of businesses that provide health insurance, retirement plans, and other benefits.
Possibly Not Worth The Price
Determining if a PEO's services are worthwhile might be challenging. Your charge will often depend on how many employees you have and whatever services you utilize. To evaluate if a PEO is a wise investment for your specific firm, you'll need to perform some arithmetic. Who likes Maths anyways?
Types Of PEO
Although co-employment is the sole form of PEO, there is still considerable misunderstanding regarding the business model among employers. This misunderstanding is primarily the result of employee leasing being misapplied to define PEOs and their services over time.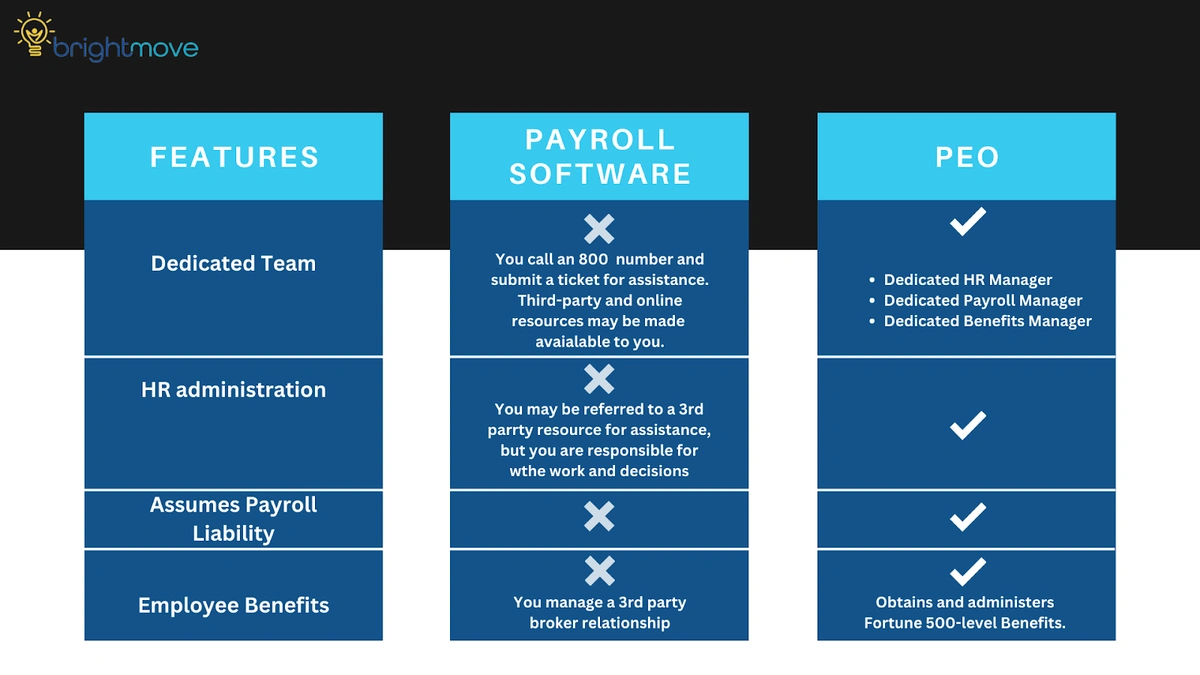 PEO vs. HR Software
HR (Human Resources) software is a type of computer program that is designed to help companies manage and optimize their HR processes and functions. This can include a wide range of tasks such as tracking employee information, managing benefits and payroll, and recruiting and onboarding new employees.
PEOs and HR software are both designed to help companies manage their HR processes and function more efficiently, but they operate in slightly different ways. PEOs are external companies that provide HR services to clients, while HR software is a tool that companies can use to manage their HR processes internally.
PEO vs. ASO
A PEO is a company that provides a range of HR-related services to small and medium-sized businesses. These services can include payroll, benefits, HR compliance, and worker's compensation.
An ASO, on the other hand, is a company that provides administrative services to businesses, such as payroll, benefits, and HR support. However, unlike a PEO, an ASO does not assume employer responsibilities for the employees of the business. Instead, the business remains the employer of record and is responsible for managing its own HR-related tasks.
PEO vs. HRO
The differences between an HRO and a PEO are minor. Professional employer organizations handle all facets of HR on your behalf. They have the ability to find people, recruit them, and set their pay. A human resource outsourcer (HRO), on the other side, handles everything a PEO handles, but they don't actually hire individuals. They let you handle that.
FAQ
Do PEOs Provide Employee Benefits?
Yes, professional employer organizations (PEOs) can provide employee benefits to their client companies. PEOs offer a range of services to their clients, including payroll, human resources, and employee benefits.
How Many Businesses Use A PEO?
PEOs are the best choice for small to medium-sized businesses (SMBs) looking to outsource their HR-related responsibilities. A PEO is something to think about whether you work in manufacturing, wholesaling, information technology (IT), real estate, retail, engineering, healthcare, legal, or any other area.
What Is A Certified PEO?
Certified PEOs have complied with the IRS's stringent financial, legal, and reporting criteria. PEOs are obliged to keep certain records and to send regular financial reports to the IRS (Internal Revenue Service).
What Is The Difference Between A PEO And A Payroll Company?
A professional employer organization (PEO) offers extra HR services in addition to managing payroll and supporting compliance. Without any shared legal responsibility, a payroll service provider (PSP) manages your payroll administration and compliance.
What Is The Difference Between A PEO And HR Outsourcing?
PEOs offer a comprehensive range of HR services and assume the role of employer of record for a company's employees, while HR outsourcing firms offer more targeted services and do not assume the same role.
Why Should I Use A PEO?
How about we weigh the cons against the pros and see where we stand? You might not have the leisure of time to run an efficient and effective HR service. It is a no-brainer that you let a PEO come in and control things. This will save you a lot of time and resources. PEOs can provide a range of HR services to small and medium-sized businesses, including payroll, benefits, and workers' compensation.
As it stands, recruiting is no longer a buyers' markets – the tables have turned. If you find yourself struggling to fill roles or perhaps your building your talent acquisition team, there are proven and reliable means to accomplish this and more. With the BrightMove OnDemand Marketplace, you have a recruitment hub created to provide expertise to organizations through our massive network.
The OnDemand PEO provides a total solution, from recruiting to payroll, onboarding, and even benefits administration and support. Within the Marketplace, our OnDemand PEO suppliers feature some of the most respected professional employment organizations in the world such as, Insperity, Source2TM, and huemanTM. Feel free to get started today with our OnDemand Marketplace Request.
By outsourcing these functions to a PEO, businesses like yours can access expertise and resources that you may not have in-house. PEOs can also help your business comply with employment laws and regulations.
Final Thoughts
There you have it. Profitability is one of the primary objectives of running a business and factors that can mitigate it must be avoided at all costs. In the course of a company trying to do everything, especially in the area of human resources, productivity might be affected due to resources and time channeled to it. It is therefore paramount that a PEO is involved in handling appropriate issues.
Using a PEO is important to almost every business and it is imperative you note the benefits they offer. The advantages and drawbacks of using a PEO have been identified and the advantages are too numerous to be ignored. The decision is yours to make, we are sure you will make the right one.
Feel free schedule a demo today or contact us directly to learn how BrightMove can help you meet your PEO goals this year and beyond!
And, if you're a PEO representative looking for a new product to offer to your customers, why not check out the OnDemand Marketplace. To join, simply fill out a simple recruitment intake form, and an OnDemand Marketplace specialist will help you.